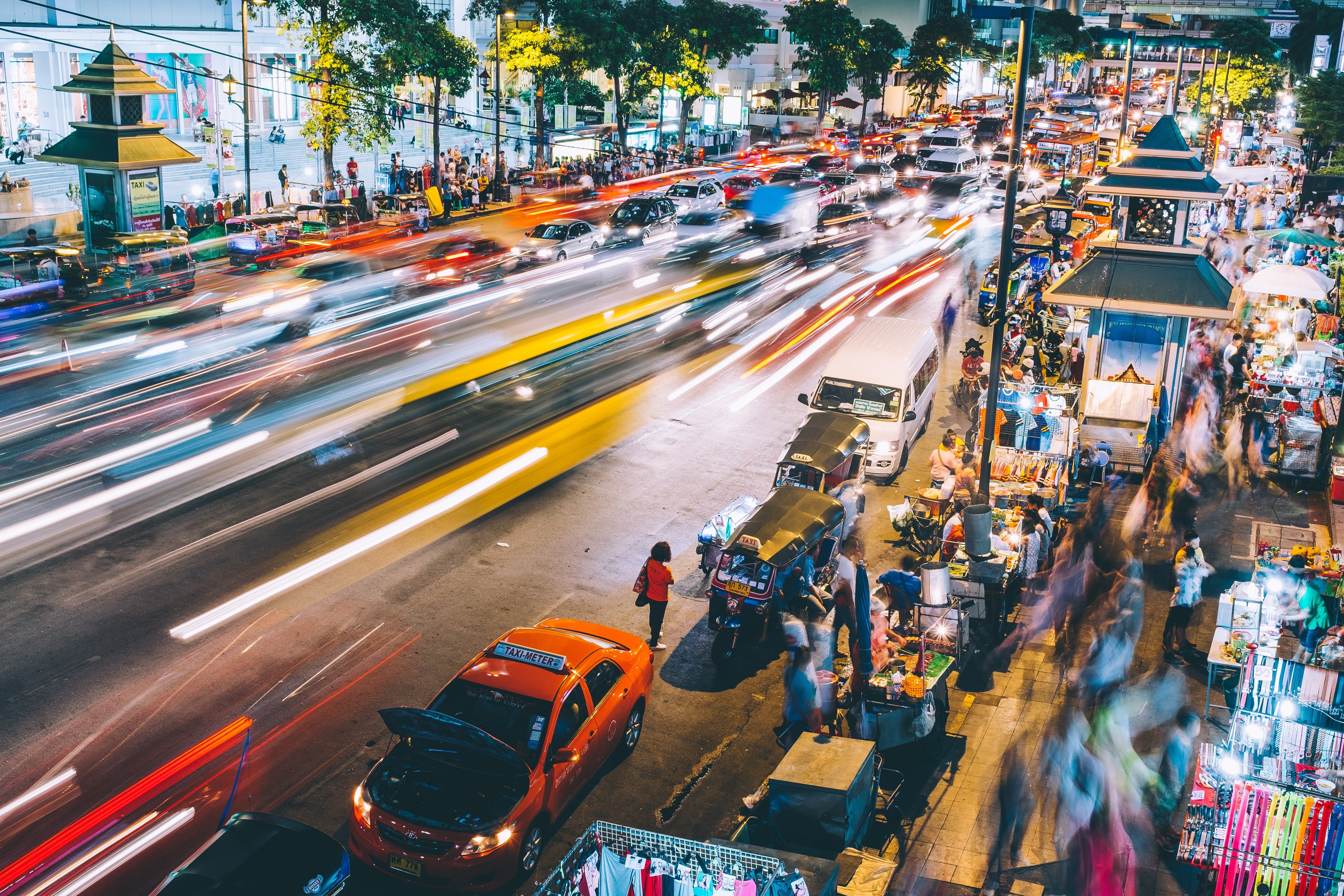 Thailand Travel Guide - An Insider's Guide to Bangkok
Thailand is the travel hub for South East Asia. It's the most frequently visited country within the region.
There's good reason behind the country's popularity. From friendly locals, delicious food, stunning landscape, incredible nightlight and so much more. 
As lively as it is, there are a few caveats to visiting a highly popular travel destination. While tourism greatly benefits the country's economic health, tourists often succumb to "tourist traps", or miss the opportunity to experience an area through a local's eyes. 
This Summer, we had the pleasure of welcoming a new intern into our team who's roots are tied to Thailand. With her expertise and knowledge, we've put together a list of recommendations and travel tips that might help an eager tourist. 
Planning a trip to Thailand? Keep on reading to learn how to travel like a local.
Must Visit Cities in Thailand
Bangkok
The capital city of Thailand and being the most central, most visitors traveling to the region will land in Bangkok. 
Bangkok is a living and breathing entity rich in history, culture, and friendly faces. It's a buzzing city that can procure whatever you dream of. From historic and religious sites, delicious food, to lively nightlife, Bangkok is filled with activities for everyone. In fact, it's such a big city with so many attractions, we'll dive deeper into it later in the blog. 
Phuket
Phuket is Thailand's largest island and is surrounded by the Andaman Sea. From PaTong Beach to island hopping, it's no doubt that Phuket is known for its dazzling beaches. There is however, a lot more to explore than the beaches on Phuket: jump between local markets, national parks, historic temples, monuments, buzzing city center and nightlife.
Krabi 
Not too far from Phuket and located on the west coast of southern Thailand, locals consider Krabi the "much more affordable Phuket". Famous for their breathtaking beaches, nearby islands, sheer limestone cliffs and dense mangrove forests. It's an area often enjoyed by locals and tourists alike. 
While Phuket is well known for its historic and religious sites, Krabi offers more natural attractions like the Emerald Pool, national parks, and coastlines. 
Insider Tip ---> 
Scuba diving is a must-try activity in the area since Krabi is known for its beautiful corals, water and aquatic life. Scuba diving is available year round. Learn more here. 
Chiang Mai
Located in Northern Thailand, Chiang Mai is known for its scenic mountain views, and religious and cultural sites. 
Looking for something new to do? Visit Chiang Mai's Elephant Jungle Sanctuary. The sanctuary prioritizes the welfare of animals and re-homes retired elephants that were once in the tourism industry.  
Bangkok Travel Guide
Where to Stay in Bangkok 
Escape from the hustle and bustle of the city, and get your beauty sleep at one of these highly recommended hotels and airbnbs. 
Luxury Hotels in Bangkok
The Anantara Riverside Resort is located on the west bank of the Chao Phraya amidst 11 acres of greenery. A true paradise amongst an urban setting, go back and forth between its calm serenity and the city's cultural buzz on a private hotel owned shuttle boat. 
If you're looking for a hotel in the heart of the city, check out Sivatel Hotel. Located in Bangkok's business and shopping district, your home away from home will be near all of Bangkok's most interesting attractions. Enjoy modern amenities and a rooftop infinity pool overlooking the city at this boutique hotel. 
Airbnbs in Bangkok
Live like a local in an Airbnb, which are typically owned and operated by locals themselves! 
This Airbnb is located in the Bang Rak district, which is near some of the city's best food stalls, restaurants and attractions. Did you know that Bang Rak translates into "The District of Love"? 
The apartment features a beautiful balcony overlooking the city and the host boasts about their hand written guide to Bangkok for all guests to enjoy. Talk about really enjoying the city through a local's eyes! 
Immerse yourself with the locals, Bangkok history and culture while staying at the Ba Hao Residence x Maitri Chit Room Airbnb. A spacious private room with an en-suite built on the third floor of the Bā hào building. The building is a renovated building featuring contemporary elements, while preserving characteristics from its original form of being a shophouse. Situated near the city's Chinatown, the main floor of the building is an Oriental-style restaurant focusing on beers and Chinese-inspired bar food. The second floor of the building  is a shared living area between the Airbnb and the Airbnb (fourth level) above it. See the fourth floor of the Ba Hao Residence here. 
Where to Shop in Bangkok 
Whether you enjoy luxury and designer purchases or the ability to get a bargain, Bangkok definitely has something for everyone. 
Top 3 (Luxury) Shopping Destinations in Bangkok
Siam Center
Located near BTS Metro Station, Siam Center is one of Bangkok's most popular malls. The mall highlights many up and coming Thai designers, as well as international brands foreigners are familiar with. 
Iconsiam
Iconsiam is a glamorous multi use building on the banks of the Chao Phraya. The development is made up of residential units, hotels, restaurants and one of the largest malls in all of Asia. 
Emquartier 
The Emquartier is one out of three buildings planned for the "EM District", along with the existing Emporium, and the EmSphere. In addition to its luxury boutiques, the building features 30-ft open air, six stories of dining terraces sitting atop a helical floor slab, and a five-story waterfall. 
Top 3 (Budget Friendly) Shopping Destinations
Chatuchak Market
The Chatuchak Market is a must visit attraction when in Thailand. It's the world's largest weekend market place, bringing in over 200,000 visitors in a day. The market has over 15,000 stalls which sell clothing, food, gadgets, art, antiques and more. 
MBK Center
Popular with tourists and locals alike, MBK Center is an eight story mall filled with shops that sell everything from clothing, fashion accessories, handbags, leather products and luggage to furniture, mobile phones, electrical appliances, cameras, stationery and DVDs. Many of the shops offer their goods at a heavy discount. 
Platinum Mall 
Platinum Mall can be compared to the Chatuchak Market. The only difference is that it's indoors. The small specializes in wholesale apparel and the majority of the stalls sell womens apparel and accessories. Haggling is definitely a part of the Platinum Mall experience!  
Must try Food and Restaurants in Bangkok

Jodd Fairs
Check out Jodd Fairs, a new open train night market popular amongst the young and hip crowd of the city. Enjoy delicious street food, check out the local stalls, socialize amongst old and new friends, and bask in the market's lively energy. 
Raan Jay Fai
World famous street food vendor with a Michelin Star, you might have seen Raan Jay Fai on the Netflix show "Street Food". The 73 year old chef and owner Jay Fai is known for her crab omelets and other delicious street food meals. Expect long wait times if you wish to eat here. Insider tip: You can book a reservation through email. Just make sure you do it at least a couple of weeks in advance and that everyone in your party is present when being seated. 
The Best Pad Thai in Bangkok - Thip Samai Pad Thai
What would a trip to Thailand be without enjoying some authentic Pad Thai. Thip Samai is Thailand's longest running pad thai eatery. Having originally opened in 1947, the restaurant now operated several successful branches throughout Bangkok. Eat some delicious pad thai at Thip Samai, and learn about the unique history of Thailand's national dish. 
Best Nightlife Neighbourhoods in Bangkok 
Khaosan Road 
See Khaosan Road come to life the moment the sun goes down. With its neon lights, loud music and crowds of people looking for a good time, there's no doubt you'll have a night to remember. 
On Khao San Road, there's a bar for everyone. With local drinking holes ranging from upscale, upbeat or casual. 
For an upscale and upbeat clubbing experience, check out The Club Khaoson Bangkok. Three floors of dance beats, UV lights, disco balls, and a crowd of locals and tourists alike.
Looking for a more intimate evening? Check out Adhere the 13th Blue Bar, a small hole in the wall joint that hosts a live jazz band every weekend. 
Thonglor 
Thonglor is the new hip and upscale nightlife neighbourhood of Bangkok. It's an area that would be great for a date at a romantic cocktail bar, rooftop or speakeasy, or a dinner with friends followed by an evening at a nightclub. 
If you're the type to enjoy a view with a martini, check out the highly rated rooftop bar Octave. 
Mixologist at heart and a die hard cocktail fan? Check out J Boroski for unique cocktails handcrafted by one of the worlds best mixologists, Joseph Boroski. The bar doesn't offer a menu, instead drinks are made based on your preferences and expert recommendations.
Silom Road 
Bangkok's original red light district, Silom Road is known for being diverse, lively and just downright fun. 
Take a stroll down Patpong Road for its nightly street market as well as its infamous go-go bars.
Travel tips from a local
Get a Local Sim Card
Make sure to purchase a tourist sim card when arriving at the airport. Having data and a phone number will definitely help you get around the city. 
How to Get Around the City for Cheap
For transportation, it's better to download apps such as Grab Taxi and MuvMi, which are ridesharing apps similar to Uber. It allows you to book your taxi/Tuk Tuk ride in advance at a much cheaper price considering that some Taxi or Tuk Tuk drivers may take advantage of foreigners and charge unreasonable fees. 
Be Adventurous with Food, but Remember your Stomach has Limits
While trying street food is a must-do when visiting Thailand, you must keep in mind that many foreigners have food poisoning when they are not careful of what they eat. Some food may upset your stomach considering that you are not used to some ingredients.  
We hope this travel guide inspires and helps you on your next journey to beautiful Thailand! 
Looking for more travel inspiration? Check out our handcrafted and luxurious travel accessories.